The design process and incorporating a 3D scanner, such as SOL, can differ radically depending on the scan's intended use, but it's fair to say that a 3D scanner and it's software often stands as part of a larger assembly of tools and software programs. In some cases, particularly when the goal of 3D scanning is to create a 3D asset for further digital purposes (rather than for reverse engineering or prototyping), scans will require some extra clean-up or geometric sculpting beyond what the SOL scanning software can provide.
The good news is that SOL software does the meshing automatically and allows you to save into several file formats: OBJ, STL, PLY, DAE, and XYZ.
So, what are the best editing programs out there, which are free? We have collected a sample of the most popular free 3D modeling software programs to expand on the files generated from SOL:
Blender
Main focus: 3D asset creation
Blender has a bit of a reputation for its complicated interface and accompanying steep learning curve, but it's professional-grade software well worth exploring. Luckily, it's such a popular program there's a wealth of great tutorials out there.
To clean an STL file of a 3D scan in Blender, check out this great Instructables article detailing a 10-minute process using the Shrinkwrap Modifier and the Sculpt Mode feature.
SketchUp Make
Main focus: CAD design SketchUp Make is the free version of this popular software package. Owned by Trimble Inc., a mapping, surveying and navigation equipment company, SketchUp Make was built mainly for interior home layout and design. Directly importing an OBJ 3D scan into SketchUp Make requires an additional plugin and can slow the program down. It also won't be 'usable' in the way the program intends, as the mesh will lack the definitions that allow the program to isolate walls, or interact with it in a design-oriented manner.
SketchUp Make offers a Scan To CAD service that for a fee will convert your 3D model (generated by the Canvas app) into a design-ready CAD file.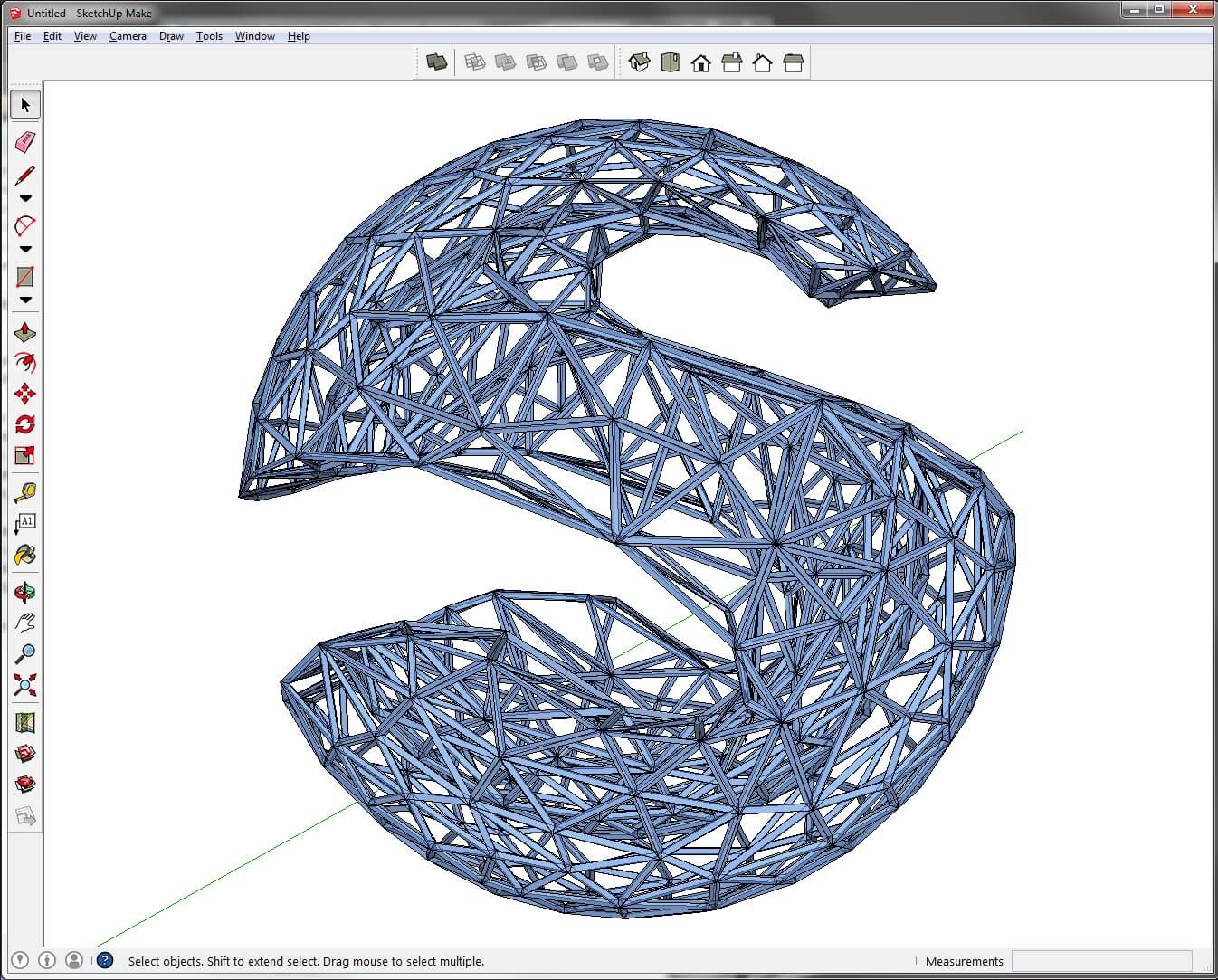 Daz Studio
Main focus: 3D animation
The 3D animation process throws a special kind of wrench in the possibility of incorporating 3D scanned models into your work. Before sculpting a character in 3D, animation requires creating its 'rigging' first; the instructions for how the character will move. With the rigging in place, the character features are animated on top. Importing a 3D scan misses this crucial step, presenting in the software as a shell with no rigging inside - static and frozen as an object. Currently, this restricts the usability of 3D scanned models to immobile objects within the animated world.
It is possible to import OBJ's into Daz Studio and 'rig' the model in that software. Just be aware that this is essentially going backwards through the animation flow.
3D scanning has found a home in certain fields associated with 3D modeling in a big way, but its place in the Film and Visual Effects 3D modeling industry is only beginning to be felt. The frustration that scanned meshes don't conform to industry standards is real, and converting them into usable properties can feel like it takes just as long as pulling out the caliber and a suite of photos and going the traditional route.
TinkerCAD
Main focus: 3D printing
TinkerCAD by Autodesk offers incredibly easy in-browser modeling geared to entry-level users and the middle school education set. In that realm, it usually functions as part of a 3D printing process, which it supports with direct integration with 3D printing services and a click-to-3D print option right in the software.
The only caveat to using TinkerCAD with the Matter and Form 3D Desktop Scanner is that your saved OBJ/STL upload must have less than 300,000 faces. Also worth noting is that uploading a scan into Tinkercad discards it's texture information and leaves just the mesh object.
Run TinkerCAD in your browser .
MeshMixer
MeshMixer is another popular free program from Autodesk, most commonly used to quickly assemble models for 3D printing. This program lets you add branching support structures beneath your model, analysis the stability and thickness of the print, simplify meshes, and offers the benefit of automatic print bed orientation optimization, layout, and packing. Although geared towards beginners to the modeling process, MeshMixer allows advanced users to quickly see the results of an idea, without investing the time required to experiment using more complex programs.
To use with the SOL 3D Scanner, be sure to export your file as an STL, as MeshMixer is restricted to triangle-based models.
MeshLab
Main focus: 3D scanning
MeshLab is a great piece of open-source software specifically built to handle the large, unstructured 3D models generated from 3D scanning and 3D digitizing methods. To that end, it contains tools for editing, cleaning, healing, inspecting, rendering, texturing, and converting meshes. Developed and used in academic contexts, MeshLab is applicable for situations common to 3D scanning such as cultural heritage preservation, palaeontology, rapid prototyping, orthodontics, and desktop manufacturing.
That being said, MeshLab is easy to use and a favorite of our customers (it's ability to measure volume is handy). It's also the only software on this list compatible with Linux operating systems as well as Windows and macOS X.
Export scans from the SOL software as PLY, STL, or OBJ to use with MeshLab.